Endodontics Retreatment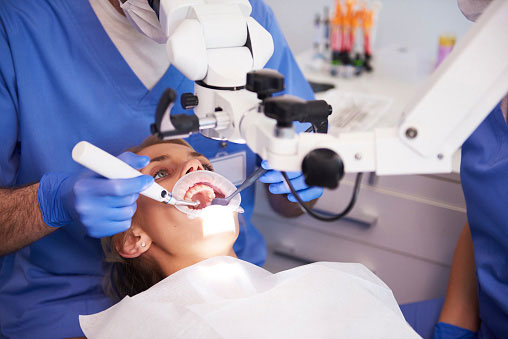 Root canal-treated teeth can last a lifetime with the correct maintenance. Even after receiving treatment, a tooth may fail to recover properly, resulting in discomfort or illness months or even years later. You can get a second chance if your tooth doesn't heal or if it develops new issues.

We can save your tooth with the help of supplementary treatment. If you experience pain or discomfort in a tooth that an endodontist has already treated, you should discuss retreatment options with Our doctors and our doctors at Cambridgeside Dental Associates.


Why Do You Need Endodontic Retreatment After Actual Treatment?

The healing of your tooth may not proceed as planned after the initial treatment for numerous reasons, some of which are:


| | |
| --- | --- |
| • | It was not possible to treat canals that were particularly narrow or curved when the operation was first performed. |
| • | In the original operation, the complex canal architecture was not recognized. |
| • | After endodontic therapy, the crown or other repair was put off. |
| • | The tooth's pulp was still contaminated by saliva despite the restoration's best efforts. |
| • | Exposure to new infection might occur if a crown or filling becomes loose, fractured, or damaged. |
| • | The tooth was broken and needed to be repaired. |

Sometimes, a tooth that has been successfully treated can be put at risk by something entirely new. For instance, if the tooth develops new decay, the germs previously kept out of the root canal filling material can invade the tooth.


Procedure for Endodontic Retreatment

The first step of treatment is to talk with the endodontist about your alternatives. We are here at your service. After discussing your options with us, we may recommend you the perfect retreatment, in which we will reinsert the root canal filling material into the canal. To gain access to the root canals, it is often necessary to disassemble and remove sophisticated restorative components such as a crown, post, and core material.

We will clean the canals after the filling is removed and thoroughly examine the tooth under magnification and bright light to look for any more canals or abnormal architecture that may need to be treated.

We will then fill and seal them before placing a temporary filling. You might need urgent surgery if the canals are extremely small or obstructed. An incision must be made during this procedure to seal the other end of the root.


How Long Does the Recovering Patient Have to Wait Before Returning to Normal Activity After Endodontic Retreatment?

We will provide you with unique post-op care instructions according to the unique nature of your case. If you need endodontic surgery, know that your recovery period could be lengthened. If you have pain or infection in the tooth before treatment, you may experience sensitivity in the tooth for a few days thereafter.

If you're experiencing any soreness due to inflammation of the tissues, we may advise you to take an over-the-counter pain reliever. If you've recently had dental surgery, it's best not to use too much force when brushing the area around the treated tooth or use it to chew on anything too hard.

If the procedure was successful, you will need to return within a week to have any sutures removed. Within two weeks, your tooth should feel back to normal.


Come See Us if You Need Endodontic Retreatment

Although root canal treatment is improving in predictability and success rate, certain cases still fail because of leakage, procedural errors, missed canals, or atypical canal morphology. We can perform endodontic retreatment successfully and preserve your natural tooth with the right tools.